Net Entertainment Online Progressive Jackpots
Bonus Keno Progressive Jackpot Review


Jackpot Name:
Bonus Keno
Software:
Net Entertainment
Min Bet:
$/€/£ 1.00
Max Bet:
$/€/£ 5.00
Win Combos:
6
Min Jackpot (seed):
€ 30,000 (CasinoEuro)
£ 10,000 (Betsson)
£ 10,000 (Betsafe)
Largest Wins:
£54,902.48 (Betsson)
£36,671.89 (Betsafe)

Average Hits:
£38,722.75 (Betsson) (4 hits)
£36,671.89 (Betsafe) (1 hit)

Avg. Hit Times:
1 year 1 month (Betsson)
11 months 19 days (Betsafe)

Last Hits:
£31,767 on 2016-08-12 (Betsson)
£36,671 on 2013-03-20 (Betsafe)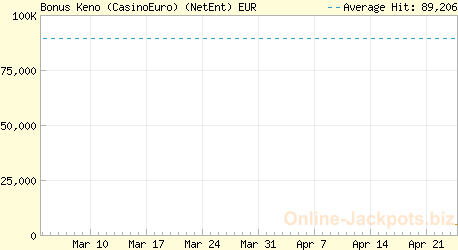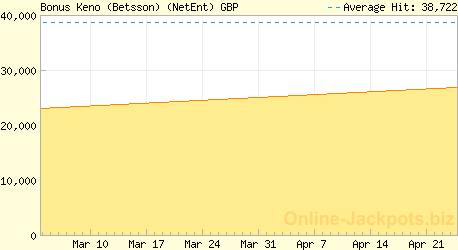 Bonuses galore with the new Bonus Keno that has a unique bonus feature and a progressive jackpot which gives you a great opportunity to win big. If you like Keno, you'll love NetEnt's Bonus Keno!

Bonus Keno is a number game with Bonus rounds and growing Jackpot. Pick 2 to 10 numbers of the 20 numbers drawn by the game to win in the game. The winning amount in a classic Keno round is calculated based on how many numbers you pick, the number of HITs, and the amount of your bet. The minimum number of hits required to win varies depending on the numbers you pick. The maximum number of joker symbols that can be revealed in a game round is 1.

Progressive Jackpot
If the numbers drawn reveal the Jackpot symbol (10 tiles in the shape of a J), as shown in the image below, then the progressive Jackpot, or part of it (see table below) is won. The Jackpot is a progressive jackpot, where a portion of the player's bet is added to the Jackpot. 3% of each bet is contributed to the Jackpot. The Jackpot amount won is calculated according to the bet placed. For each bet level, the percentage of Jackpot amount won is calculated as follows:
| | |
| --- | --- |
| Bet level | Jackpot payout % |
| 5 | 100 |
| 4 | 80 |
| 3 | 60 |
| 2 | 40 |
| 1 | 20 |

Bonus Round
Bonus Keno also features a free Bonus round that is activated by 5 or more jokers. The number of jokers is displayed at the top left. The joker symbols stay throughout the game, even if a player leaves and later logs back into the game. Wins pay double (x2) during a Bonus round (except Jackpot payouts). The free Bonus round bet amount is equal to the minimum bet played between the rounds in which you received the 1st and the 5th jokers.

Bonus Game
Click CLEAR to clear the Keno tiles if you have played a previous round. Set bet and Pick 2 to 10 numbers by using the following options: (1) Select numbers by clicking AUTOPICK, (2) Select a previous round in the History table or (3) Manually pick individual numbers.
You can click GO, PLAY 5 or PLAY 10. 20 of the 80 numbers are randomly drawn in each round. The drawn numbers appear on the numbered tiles showing the hit and missed numbers and bonus jokers in the game round. Pick numbers and click GO to start the number draw.