Online Progressive Jackpot Winner Stories and Interviews
Mega Moolah Jackpot Winners Stories.
October 6, 2015.
Record €17.8 Million Mega Moolah Jackpot Has Been Hit By Jon Heywood At BetWay Casino. BetWay Casino player Jon Heywood, from Cheshire, England, becomes an overnight multi-millionaire and declares: 'Family comes first'. He set the world-record for online jackpot wins with his incredible €17,879,645.12 win. A British Army soldier has become an overnight multi-millionaire after landing an Earth-shattering £13,213,838.68 jackpot at Betway Casino -...

August 28, 2016.
World's Biggest Mobile Casino Jackpot Won by Zodiac Casino Player. Zodiac Online Casino has just announced that one of their players has won a record-breaking mobile jackpot of $11,610,536.59. Player 'D.P.' won this life-changing amount by betting only $1.50 using her iPad on the progressive slot Mega Moolah. On Sunday 28th August the stars aligned for the lucky player and a spin of the wheel saw him land a jackpot worth...

June 17, 2016.
New Zealander Rawiri Pou Hits $10 Million Mega Moolah Progressive Jackpot. Rawiri Pou from New Zealand won NZ$10,144,395.82 on the 17th of June, 2016 while playing Mega Moolah slot. The 27-year-old fast-food worker said he still can't believe it's real. Young Maori man Rawiri Pou from Matamata, New Zealand, won NZ$10,144,395.82 on Friday 17th June 2016 when playing the Mega Moolah progressive slot. The jackpot amount is equivalent to about...

April 9, 2015.
Canadian Player Mark A Wins CA$7,561,773 on HTML5 Mega Moolah Mobile Slot at Royal Vegas Casino. The Mega Moolah Jackpot was won by a Canadian player Mark A who took home a whopping CAD $7,561,773 million (GBP4,092,220.62). The winner playing HTML5 version of the popular progressive slot game from his mobile device at Royal Vegas Mobile Casino. "We've been watching the progressive ticker grow substantially over the last few weeks; anticipation was building as to when...

April 8, 2016.
A Lucky Winner Scooped up EUR6.9 Million on Mega Moolah Slot at Spin Palace Casino. Mega Moolah slots player wins €6,905,670.81 fortune at Spin Palace Online Casino. The lucky punter is pondering precisely what to do with seven million euros after landing the Microgaming's Mega Moolah progressive jackpot prize and taking home a cool €6.9 Million! It is not the first time that the Mega Moolah progressive slot has paid out a huge win. Ever since...

May 13, 2009.
Biggest Euro 6.3 Million Jackpot Won By River Belle Online Casino Player Georgios M. Saturday, May 9, 2009 was just the start of another ordinary weekend for online casino player Georgios M. Little did he know that on this day a little luck would change his life forever! His date with destiny arrived when the long awaited progressive jackpot burst, making Georgios the recipient of the largest ever Microgaming jackpot payout. He had been playing and...

December 11, 2012.
Mega Moolah Jackpot Pays Out GBP5.8 Million To Lucky Winner From UK. The Internet's most famous online jackpot Mega Moolah has once again made front-page news by paying out a colossal GBP 5,883,044.43 to the lucky winner from UK. John Orchard hit this huge jackpot while playing the popular slot at Buttlers Bingo site. "We are blown away by last night's £5.8 million win! It's even bigger than K.E.'s $5.5 million win at Blackjack...

April 26, 2008.
Player From Finland Wins Over $5.5 Million Jackpot At Blackjack Ballroom Online Casino. This weel a long awaited Mega Moolah jackpot has been hit by a Finnish player. Blackjack Ballroom online casino has made a VERY lucky player an incredible $5,556,753.68 richer. Klaus E., from Finland became an instant millionaire last Friday when he placed a $0.50 bet on the Mega-Moolah Progressive Slot Machine at Blackjack Ballroom and walked away $5.5 million dollars...

July 17, 2012.
UK Gambler Walked Away With GBP 2.6 Million Jackpot on 17 July 2012. Ladbrokes Casino announced that their UK-based player walked away with $4,103,391.64 jackpot payout on 17 July 2012. A lucky player from Midlands in the UK won playing Mega Moolah Isis progressive slot. David Williams of Ladbrokes Online Casino said of the winner, "We've never known a luckier punter. It is a truly incredible win." Not just because of the size of the win -...

June 12, 2014.
Player G.M. Won $3,905,087 on Mega Moolah Slot at Quatro Casino. Online casino group CasinoRewards has just announced their latest enormous progressive jackpot winner - the second instant millionaire for the year! Player 'G.M'. has been turned into an overnight millionaire with a life-changing $3,905,087.80 jackpot win on the slot machine Mega Moolah. "Casino Rewards has changed my life in every way possible. It's just crazy. I'll...

November 5, 2011.
Casino Rewards Mega Moolah Slot Creates Another Multi-Millionaire. The greatest excitement has been the astonishing jackpot won by A.D.: $5.2 Million Ladies and Gentlemen! For the second time in its award winning 11 year history as the Internet's premier online casino group, Casino Rewards pays out another multi-million dollar progressive jackpot prize. In October 2011, the Mega Moolah reels aligned for novice gambler A.D. who was instantly...

October 23, 2011.
Player A.D. won 3,841,871.46 Euros on Mega Moolah Slot off a 50 cent bet. Lucky CasinoRewards players won almost 4 Million Euros from just a 50c bet! Let's look what he has told to casino managers concerning this remarkable win! "I like to play online because it's convenient, you can play from home. It's like a hobby, and at the same time you can win something." "My win was a beautiful memory, a beautiful memory indeed... it was not long ago, so...

November 11, 2014.
I.R. won $3,390,332 playing Mega Moolah on her mobile phone at Golden Tiger Casino. This woman definitely has a sence of humor and she no longer need to seek for a coupon to buy anything in the shops. She told us her story: "I'll definitely keep playing Mega Moolah as it'll go off at any time. You don't have to play the maximum - you can play the minimum and still win the jackpot." "On the night of the win, I was at my mum's house and had some childhood...

October 5, 2009.
Radoslaw M. From Poland Claimed $1.2 Million Mega Moolah Jackpot. 29-year old Polish player Radoslaw M. hit US$1,242,561.85 Mega Moolah Progressive Jackpot on 5 October 2009. Betway Casino has paid this amount in a single sum to the lucky winner. You can see the check right on the Padoslaw's photo. Radoslaw said "I was afraid to touch my computer, I was so shocked!" He said. "I'm so happy, I don't know what to say!" Radoslaw...

November 20, 2016.
PAF Player Becomes a Mega Happy Winner On Mobile Mega Moolah. After less than a month at Paf, the popular Mega Moolah progressive slot game has already made its first PAF jackpot winner. You could say Christmas came a month early. The lucky player has been with Paf for 5 years so he knows how it feels to win and lose, but such a big jackpot win on Mega Moolah was a massive surprise: "Winning big was so weird. I sat there with my...

August 10, 2015.
J.F. landed a life changing win of €99,324 in August 2015 playing Mega Moolah at UK Casino Clu.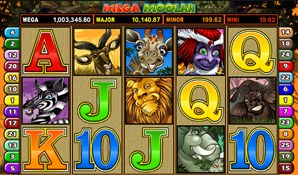 I was in shock to be honest; I had to check I was actually logged in! Weve been saving a deposit for our own home so this money will help secure us our first family home. I told my daughter and her first response was great, you can buy me an iPhone6 now.



January 4, 2011.
Festive Cheer At 32Red - Millions In Payouts And Three Big Jackpot Winners This Holiday Season At The Award-Winning Online Casino. £5.6 Million!! That's the amount paid out by 32Red Online Casino during Christmas week! Players won big online jackpots and various smaller payouts. Some WINNERS include: Gary S who won £55k on Cash Splash 5 Reel! This is a video slot version og the popular slot machine with the same jackpot. One of the most frequently hit progressive slots... Richard H who...

November 28, 2015.
L.C. placed a GBP1.25 bet and won GBP58,045 on Mega Moolah at Luxury Casino in November 2015. To all at Luxury Casino, Oh my god! What a mad few days it has been, its a dream come true, it really is. I dont know what Ive been doing the last few days and I dont think it has fully sunk in yet! I decided to play after receiving a couple of emails saying I could play for a pound. I was sitting there bored on my tea break at work and I thought - oh sod it, whats a pound?...

March 7, 2010.
Another Players Wins Week After Week On Mega Moolah Slot Whilst The Jackpot Climbed Over GBP 2,000,000! We're delighted to announce that one of Ladbrokes online casino players has followed in the footsteps of the previous winner of this casino and won £13,103 on the popular progressive jackpot slot, Mega Moolah. Winning the enviable amount on the 3rd March, this progressive jackpot win comes only a couple of weeks after another of Ladbrokes' players won £56,341 on...

Next 20 Winners >

Mega Moolah Winners | Page 2

Other Progressive Slots jackpot winner stories: