Online Progressive Jackpot Winner Stories and Interviews
Booster Jackpot Winners Stories.
May 10, 2005.
Oohlahma Hits $162,514 Progressive Jackpot While Playing Booster Slot At Slotland Casino. The slot machine site with the most won jackpot on the net announced yet another huge progressive jackpot winner! Lucky North American slots player 'Oohlahma' has won $162,514 at Slotland's exciting three-wheel, single payline "Booster" slot machine. 'Oohlahma' is actually a 55 and 57-year-old brother and sister team who have been playing at Slotland.com on WebTV on their...

December 26, 2006.
Slotland Casino Player SALIOTO Wins 10th Jackpot Of The Year 2006 And Wins $116,008 On Booster.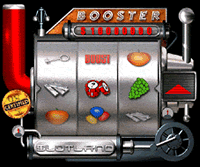 Slotland's last big winner of 2006, SALIOTO, hit $116,008 progressive jackpot on December 22 while playing popular Booster slot machine game. This classic 3 reel slot with single pay-line and large progressive jackpot can be played on your computer (also compartible with AOL/WebTV/Mac) or mobile device (phone or PDA). Try playing Booster on your mobile phone and get $20 free from Slotland online casino to start winning!

January 26, 2004.
First Jackpot Winner Of 2004 Won $107,103 At Slotland. $lotland is excited to announce its first jackpot winner of 2004, and it was a great win! On January 22, 2004, SANDYSAILS of Vermont broke the jackpot while playing Booster slot machine to bring home a tidy sum of $107,103! We had a chance to hear from this winner and learn how it all happened. "I knew that if I ever broke the jackpot at Slotland, it would be from Booster...

January 10, 2011.
Slotland Newbie Wins $104,514 Progressive Jackpot on Booster Slot. The new year is off to a great start for one of our lucky slots players! Known as TWOTONEJOAN in our community, the novice player won $104,514 playing the Booster slot machine last week. Win will pay off the mortgage - after a little shopping spree at the mall. "I still feel like such a newbie at this," said the winner. "I can't believe I actually won so much! Slotland was...

October 14, 2000.
Housewife From Deleware Wins $96,688 Progressive Jackpot At Slotland.. CLASSOF65, a housewife from Deleware, USA, won progressive jackpot of $96,688 on June 12 2000 playing at Slotland casino. She shares her experiences of winning big and tells to the casino manager her story. Sometimes it pays to send the kids and hubby away... "I just can't begin to tell you how much fun I had on your casino page. Slotland just blew me away once I got going on...

February 4, 2003.
Player STRONGARM Who Used To 'Hate' $lotland Wins $39,507 'Booster' Progressive Jackpot. On January 27, 2003, STRONGARM, a retired player from North Carolina, was very pleased to have logged in at Slotland to play some rounds. At the time of her log out, STRONGARM found an additional $39,507 in her $lotland account. STRONGARM has been a $lotland player for about 2 years, but it was not at all a smooth ride for her. Slotland support staff remember the early days...

November 4, 2008.
Monthly Winner Story: Slotland Casino Players Wins On Both Lucky Stars And Booster Slot Machines. This month we offer another great winner story, this time from player INHALED, who worked Lucky Stars and Booster slot machines into quick fat wins at Slotland online casino. Here is the winner story: ANYTHING IS POSSIBLE (more than once..) As a dedicated and loyal player of Slotland for years I have found them to be one of the most generous online sites, whether...

October 28, 2005.
Lucky TOZE Tells The Winner Story About His Win On Booster At Slotland Casino. TOZE told us about his winning experience at Slotland this month. This story does not tell the ultimate tale of winning the progressive jackpot, it does indicate how easy and often players win, especially if they play at Slotland where the average payouts for the slots are certified at 98%! Here is what the winner tells: "I have been playing at Slotland for a little over 4...

Other Progressive Slots jackpot winner stories: