Online Progressive Jackpot Winner Stories and Interviews
Thunderstruck Jackpot Winners Stories.
September 19, 2015.
A.B. spun his way to a $352,125 win in September 2015 playing Thunderstruck.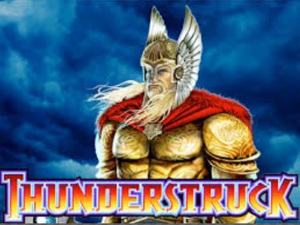 I decided to try my luck again after reading the newsletter from the 4th of September. Ive been playing Thunderstruck for years. Its my favourite game. I couldnt believe my eyes when I had the winning combination during the Freespins round and won this amazing amount!
My experience with Casino Rewards is only positive. Starting from the moment I won, to withdrawing my win, everything is very professional. I can only recommend Casino Rewards!
March 13, 2005.
Donald B from New Zealand hit Thunderstruck Progressive Jackpot winning $138,679 at Golden Tiger Casino.

I have played the games at Golden Tiger Casino for 4 years and in this time have enjoyed many small wins and some good payouts up to $7000. At all times this casino has promptly paid out winnings via cheques delivered via fedex or mail.
The main games that I play are "Thunderstruck" (I love the free game feature) and "Treasure Nile" always wanting to win that jackpot, but never dreaming that I would. Well on the 16th of December 2004 I finally did it.. Read Full Story

September 30, 2005.
$71,130 Has Been Won On Thunderstruck And Secret Admirer Video Slots At Vegas Villa. Rose M has recently had a fantastic run on the non-progressive Feature Slots at Vegas Villa online casino. She managed to bag $24,480.00 on Secret Admirer and a whopping $46,650.00 on Thunderstruck video slot... in single spins. Well done, Rose.

January 11, 2005.
Vegas Palms player Michelle wins $1,500 on Thunderstruck.
It was quite an amazing day. I hadn't played at Vegas Palms in quite sometime and your casino was nice enough to give me $30 free. Well, one game led to another and next thing I knew I was dealt 4 dueces on the multi line game. Because I was up so high I bet higher and was given 4 dueces on 3 hands that was the big win of the day. I also hit $1,500 on Thunderstruck and a Royal Flush. What an amazing fun day, and Vegas Palms has me back again as a regular player !!

Other Progressive Slots jackpot winner stories: