Online Progressive Jackpot Winner Stories and Interviews
Safe Cracker Jackpot Winners Stories.
April 21, 2003.
Club Dice Casino Player Angela S. Wins $41,017 Jackpot On Safe Cracker Slot Machine. Online slot player Angela S. won $41,017.00 playing popular Safe Cracker progressive slot game at Club Dice online casino on April 20, 2003. The winner told: "Honestly, I thought the computer had gone berserk with all the flashing and then my balance just jumping to 5 figures! I live at home with elderly parents and didn't want to frighten them but $41,017!!! I just kept...

September 7, 2002.
Willy R. Hits $34,877 SafeCracker Jackpot At Grand Banks Casino.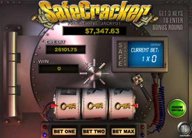 Player Willy R. won $34,877 jackpot on Safe Cracker slots at Grand Banks online casino on September 7th, 2002. "A gift from heaven, that's all I can say. Unfortunately, my wife has been ill for the last 18 months and things were getting very tight with all the extra medical costs and expensive treatments. I am just so happy that with less money worries I can spend more time with her. All thanks to those packs of bucks!" told the lucky winner.

June 1, 2006.
Kitty O. Wins $29,311 Progressive Jackpot On Safecracker $5 Slot. Carnival online casino player Kitty O. won two jackpots in May: $29,311.05 jackpot on Safe Cracker $5 slot on May 1st AND large $141,671.33 jackpot while playing on Magic Slots $5-coin on May 15th. Safe Cracker is a 3-reel progressive slot game with 3 coin denominations from $.25 to $5, - bet max 3 coins or up to $15 per spin to win a progressive jackpot. With Magic Slots players can choose $.25, $.5, $1 or $5 coin size and bet max 8 lines to win a progressive.

June 11, 2003.
Slots Player Pamela S Wins $7,524 Safe Cracker Jackpot At Carnival Casino. Pamela S. won $7,524 while playing Safe Cracker slot at Carnival Casino on June 10th, 2003. Pamela S. is a very devoted player of Playtech's software who won safecracker jackpot 5 times this last month taking home over 18,000 USD! "I cannot describe this great feeling... The last time I won $7,500 and I was in disbelief, this could not have happened in a better time, it is...

December 2, 2002.
Mike Wins $6K Jackpot On SafeCracker Slot At Mapau Casino. Mike A.C. won $6,005 playing Safe Cracker progressive 3 reel slot machine game at Mapau Casino on December 2nd, 2002. "The first time I won a jackpot was in safe cracker. It really helped me at the time happening only a few weeks before Christmas with shopping to do and a long gift list. I just can't express the excitement I felt, especially as I was down to my last $30. The...

Other Progressive Slots jackpot winner stories: