Slotland's Online Progressive Jackpots (JPs)
Booster Progressive Slot Review

| | |
| --- | --- |
| Jackpot Name: | Booster |
| Software: | Slotland |
| Min Bet: | $0.5 |
| Max Bet: | $50 |
| Number of Reels: | 3 |
| Paylines: | 1 |
| Winning Combos: | 8 |
| Min Jackpot (seed): | $50,000 |
| Largest Win: | $339,397.50 |
| Average Hit: | $155,358.36 (52 hits) |
| Avg. Hit Time: | 2 months 12 days |
| Last Hit: | $125,890 on 2022-11-04 |
| Sigma to Avg. Growth: | 62.06% |
| Jackpot Type: | 2 (sum of 2 exponents) |

The Booster is new 3 Reel online slot machine with single payline. Every time the BOOST symbol is going to appear, the game is interrupted and you can select either to keep the current bet placed or 'boost' your bet 10 times. It's one of the most exciting slot machines available on the Internet today. It is the only slot where your bet is never lost and allows to wager as much as $50 bet per single spin! Every bet which does not win is added to the special Fund. The Fund can be cashed anytime for 10% of its value or you may choose to try to recover ALL of your bets during a special WIN/LOSE spin.

The Booster is a progressive jackpot game and we recommend playing max bet on the pay lines you play. The only way to win progressive jackpot is to get three of the BOOST symbols on any of the pay lines. High rollers who like the game of slots will like the Booster - you can bet from 1 up to 10 half dollar coins ($0.50 - $5.00) on the main payline per single spin. Moreover, if you see BOOST symbol on the payline you have the options to boost your initial bet up to $50 per the following spin. This feature allows you the possibility of an amazing win; and if your BOOSTED bet does not win this time, don't worry. The full BOOSTED bet is also added to your Fund!

The special WIN/LOSE spin is initiated every time you get 3 chip symbols on the payline. When this occurs, you are no longer allowed to cash out the Fund for 10% of its value; your next spin will start a very unique round. Three WIN symbols on the payline will win the entire Fund. Otherwise, the entire value of the Fund is lost and the Fund is reset to $0. You must decide whether to recover 10% of your lost wagers or to wait for the WIN/LOSE round and try to recapture 100% of the Fund...

The largest progressive jackpot of $162,514 on Booster slot machine was hit in May 2005 by US player "Oohlahma". Under this name brother and sister were playing at Slotland on WebTV on their big screen TV... Read more about this win and check out all Booster Jackpot winners stories and testimonials.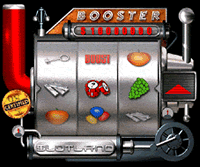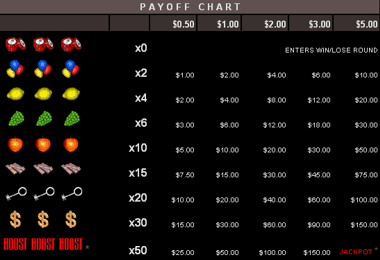 Online Slots | Casino Reviews | Online Poker News | Top Ranked Casinos