Online Progressive Jackpot Winner Stories and Interviews
October 6, 2015.
Record €17.8 Million Mega Moolah Jackpot Has Been Hit By Jon Heywood At BetWay Casino.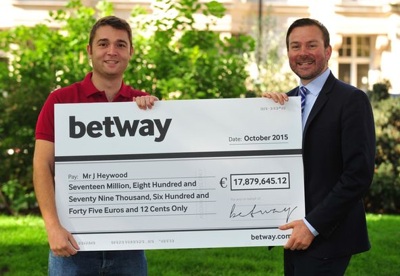 BetWay Casino player Jon Heywood, from Cheshire, England, becomes an overnight multi-millionaire and declares: 'Family comes first'. He set the world-record for online jackpot wins with his incredible €17,879,645.12 win.
A British Army soldier has become an overnight multi-millionaire after landing an Earth-shattering £13,213,838.68 jackpot at Betway Casino - smashing the world record for an online progressive win in the process.
And what makes it all the more incredible for lucky winner Jon Heywood, of Cheshire, England, is that his life-changing moment came courtesy of just a 25p stake on the popular Microgaming's online progressive slot Mega Moolah.
"I couldn't believe that I'd won all this money at the time - and it still hasn't sunk in." he said.
Jon's win comes at a particularly tough time for his family - with his grandad recently passing away and his father awaiting a heart and lung transplant.
"The first thing I will spend it on is the best possible medical treatment for my dad. That's more important than anything. Family comes first and I'd give all this money back for him to be healthy again."
The 26-year old also plans to treat his family to a luxury cruise around the Mediterranean, whilst allowing one little indulgence for himself...
"I'm trying not to get carried away and I really don't know what else I'm going to buy with the money, apart from a yellow Bentley Continental GT.
"I never even dreamed of driving a Bentley, let alone owning one. I've got a Fiat Punto at the moment!"
Jon's rapid rise into the UK millionaire's club started when he decided to register an account at Betway after seeing an advert on TV.
At 11.37pm on Tuesday 6 October, he deposited a total of £30 and began to place 25p bets on the slot game Mega Moolah. It took just 7 minutes until he hit the jackpot.
Having to keep his big news secret until the official prize presentation, the soldier, who has served in Afghanistan and travelled the world with the Army, even went into work the following morning as if nothing had changed.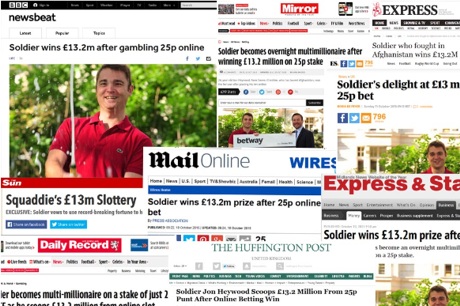 "The only people I've been able to tell so far are my superiors at work, my girlfriend and my parents. No one thought it was real. They might do once they see my picture in the paper!"

Thanks to a euro-to-pound exchange rate of 1.3531 at the time of the win, Jon's winnings equate to €17,879,645.12, beating the previous world record €17,861,813, set in Finland in 2013.

Betway spokesman Alan Alger said: "We couldn't be happier for Jon - he's an incredibly nice guy and his family will benefit immensely from his huge win,"

"It just shows that the biggest prizes can be won from the smallest stakes - Mega Moolah has really lived up to its name."

Could you be the next big winner? Register an account at Betway Casino now and get a £1000 Welcome Bonus... just for the start.

P.S. If you want to hit huge progressive jackpot we recommend chacking out our jackpot service to get the best odds - you just need to choose jackpot with the highest Score.



See All 31 Mega Moolah Winners

All Online Progressive Jackpot Winners - Index of the winner reports.

Other Progressive Slots jackpot winner stories: