Jackpot Name:
Chain Reactors 100
Software:
OpenBet
Min Qualifying Bet:
$/€/£ 1
Max Bet:
$/€/£ 5.00
Reels/ Paylines:
5 / 0
Min Jackpot (seed):
$5,000 (Maxi)
$500 (Midi)
$50 (Mini)
Largest Wins:
£35,419.27 (Maxi WH Games)
£9,148.93 (Maxi LB Games)

Average Hits:
£13,547.96 (Maxi WH Games) (19 hits)
£8,353.77 (Maxi LB Games) (2 hits)

Avg. Hit Times:
1 month 14 days (Maxi WH Games)
5 months 27 days (Maxi LB Games)

Last Hits:
£7,925 on 2019-11-04 (Maxi WH Games)
£7,558 on 2018-05-21 (Maxi LB Games)

Sigma to Avg. Growth:
89.07% (Maxi WH Games)

Jackpot Types:
1 (exponent) (Maxi WH Games)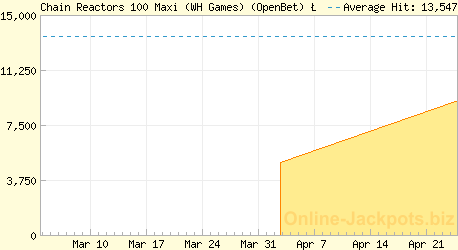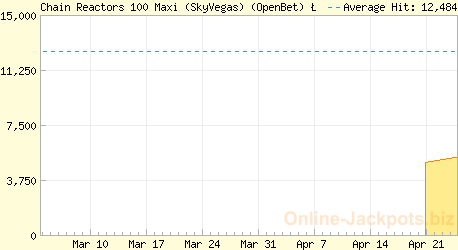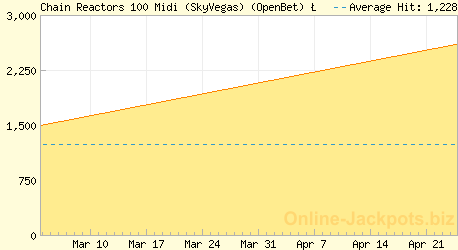 Chain Reactors 100: Place your bet, wait for the symbols to drop and watch out for that winnings! Symbols keep dropping until you stop winning and don't forget that jackpot prizes could be coming your way!


To win, you must match 6 or more, consecutive symbols connected either horizontally or vertically - known as a cluster. It's possible to get more than one cluster in a single game. Also, the symbols have different payout values.

When the symbol drop stops, any wins will be highlighted. After a short period all symbols associated with a win will disappear, allowing symbols above to fall into the vacant spaces, potentially creating more wins from a single play.

If more wins occur as a result of newly descended symbols, the above sequence is repeated. This process continues until your winning streak ends. Any winnings are displayed on the right-hand side of the game window, above the BET button. Win amounts will be added automatically to your balance.

Chain Reactors 100 Progressive Jackpot
The jackpot symbol is linked to 3 progressives: Mini, Midi and Maxi. Which jackpot is won depends upon the number of jackpot symbols appearing in the win line. If you have insufficient jackpot symbols in a cluster to win the jackpot, the cluster simply reacts (disappears). A minimum stake amount of £1 is required to qualify for inclusion in a jackpot game. At maximum stake, the maximum return achievable per spin is £250,000.