Slotland Online Progressive Jackpots (JPs)
Jacks Or Better Progressive Video Poker

| | |
| --- | --- |
| Jackpot Name: | Jacks Or Better Video Poker |
| Software: | Slotland |
| Min Bet: | $0.5 |
| Max Bet: | $10 |
| Winning Combos: | 9 |
| Min Jackpot (seed): | $50,000 |
| Largest Win: | $339,397.50 |
| Average Hit: | $155,358.36 (52 hits) |
| Avg. Hit Time: | 2 months 12 days |
| Last Hit: | $125,890 on 2022-11-04 |
| Sigma to Avg. Growth: | 62.06% |
| Jackpot Type: | 2 (sum of 2 exponents) |

The Jacks Or Better Progressive is a classic Video Poker game. It is, probably, the most popular video poker game ever because the payout table for this game is the highest and most generous in the industry. The bets are starting from half a dollar but you have to bet the max $10 to be eligible to win progressive jackpot. However, you do not need to place a maximum bet to get a bonus pay out on the Royal Flush (x250).

In Jacks or Better you choose the amount you wish to wager and press the DEAL/DRAW button to receive your cards. Then, select the cards you wish to discard. When you press DEAL/DRAW button again, you will receive new cards in the positions of the cards that were not held. The player must have at least a pair of jacks to win. The ranking of hands is the same as that given in the standard poker hand rankings. Only the best five cards are used to determine the winning hand, hands of lower value than a pair of jacks do not win. A full deck of 52 cards is used and no variant hands are added. The cards rank: A (high), K, Q, J, 10, 9, 8, 7, 6, 5, 4, 3, 2. Ace also ranks low in the sequence 5-4-3-2-A (a low straight).


Check out selected Video Poker Jackpot winners stories and testimonials.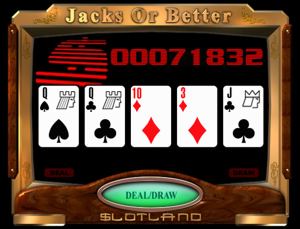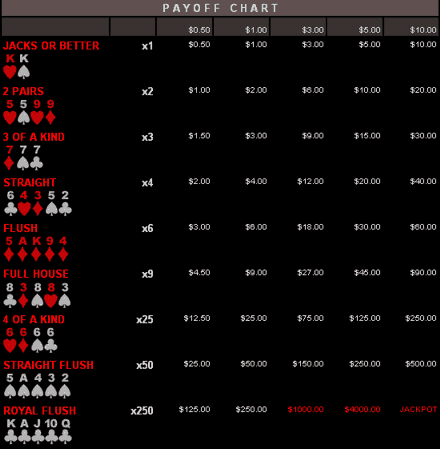 Jacks or Better Rules | Video Poker R & S | Jackpot Deuces | Winner Stories