Online Progressive Jackpot Winner Stories and Interviews
Blackjack Jackpot Winners Stories.
January 12, 2005.
A Record-Breaking 298,451.65 UK Pounds Progressive Blackjack Jackpot Was Hit At William Hill Casino.

Player Pet200710 won large £298,451.65 jackpot while playing Progressive Blackjack in William Hill online casino on January 7th, 2005. Progressive Blackjack is a Cryptologic game where for a fixed $1 side bet players allowed a chance to win a minimum progressive jackpot of 50,000 credits.

December 20, 2006.
InterCasino Player Kolle70 Hits Huge Progressive Blackjack Jackpot Of Over $240K.

Kolle70 had been playing Single-Player Progressive Blackjack at InterCasino when he hit this one of the largest online blackjack jackpot of $240,370.67 on December 16th, 2006. His extra $1 investment per hand turned into this huge progressive jackpot win. Congratulations!

May 27, 2007.
Striking 7s Blackjack Delivers $161,640 Jackpot To Slotland's Player.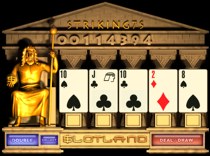 May ended up being quite a profitable month for many online players at Slotland online casino, especially for BOUNCIN, who recently scooped a whopping $161,640 progressive jackpot while playing Striking 7s blackjack game on May 23. This is the 3rd big progressive jackpot winner of the year at Slotland. The casino plan to see quite a few more online jackpot winners before the end of the year. Note that the progressive jackpot is currently standing at over $114,000 level and growing.

May 12, 2004.
German Player Scouti Win 160,438.36 Euros On Progressive Blackjack At InterCasino Deutschland. Scouti, a regular player of InterCasino Deutschland since 2003, won an unprecedented €160,438.36 (248,444.39 Swiss Francs) MEGA-Jackpot on progressive Blackjack on May 6, 2004. "I started gambling online about five years ago at Casino-on-Net, but when I saw that InterCasino Deutschland was voted 'Best Online Casino' in 2003, I made the switch," said Scouti. Moreover, he...

April 19, 2006.
Slotland Casino Player Paum A. Wins $142,460 Jackpot On Space Jack Progressive Blackjack. Paum A. won record-breaking $142,460 jackpot while playing SpaceJack blackjack game at Slotland online casino. "All I can say is - FINALLY, IT HAPPENED TO ME! I am not a blackjack fan and mostly play the slots but few hands in SpaceJack showed me what gambling is all about when all of a sudden my 60 bucks became 140 grand!!! I LOVE YOU!" said the winner. Paum from Georgia is a...

May 21, 2007.
Bodog Online Casino Player Tim L. Strikes Blackjack Gold With His Big Win. Tim L. struck gold playing online blackjack at Bodog online casino by hitting a staggering $30,700 jackpot on Sunday. Actually, this weekend brought a lot of money to the deserved Bodog's players as they win 10's of thousand bucks playing online blackjack at the casino. Other biggest winners include Kyle B. from California with his cool $16,503 win and Morgan M. who won $17,030 playing blackjack. Bodog online casino ofersa total of over 70 RTG games.

September 20, 2015.
J.H. won GBP27,000 in September 2015 playing Classic Blackjack GOLD Series. Over the moon doesnt come close to what I felt once I pressed the withdraw button! My friends say they have never met anyone as lucky as me (trust me not all the time). What I do know is that God is on my side and he is obviously shining a path for me. Why do I play Blackjack? Because its simple and quick; double or nothing! I always believe in life that you have to risk big...

February 16, 2017.
Player Jerry H Wins $12,037 on Blackjack at Miami Club Casino. Congratulations to Jerry H who won $12,037 last week playing blackjack at Miami Club online casino! Blackjack requires patience, luck, skill and the nerve to double down on a $200 hand when you've got the right cards and in a marathon session this player did everything right - started with $300 at noon on Feb 16th and closed his session eighteen hours later with...

Other Progressive Poker and VP jackpot winner stories: