Online Progressive Jackpot Winner Stories and Interviews
Video Keno Jackpot Winners Stories.
February 24, 2006.
Progressive Jackpot Winning Of $280,927.71 From InterCasino's Award-Winning Video Keno. (London, UK) - The 'Excitement you can Trust' online casino got a bit more exciting this week, as Cathy T. cashed in a cool $280,927.71 jackpot from InterCasino's Video Keno Progressive Jackpot. Marking one of the biggest progressive jackpot wins this year, Cathy was eager to express her gratitude to InterCasino manager Ryan Hartley. "I never thought I would be the one to win...

October 16, 2003.
InterCasino - The Internet Keno Kings - record-breaking $206,548.61 online Video Keno jackpot. InterCasino player "nomokes" proved that Internet Keno can "pay with the big boys" by winning a record-breaking $206,548.61 playing online Video Keno. Nomokes' record win has changed the online/offline dynamics of the game and has pushed the online prize envelope into coveted "Mega-Jackpot" territory. Read Full Story

June 12, 2017.
Ryan M From California Wins $115K Keno Jackpot at Slotocash.
The sudden excitement of a Keno win from a tiny $1.89 bet found the heart of California player Ryan M! The lucky bettor was playing what we now believe is one of his favorite Slotocash games when it hit for an absolutely amazing $115,871.13. Congrats Ryan! Way to go!

August 8, 2003.
US Player David S. Wins $50,000 Keno Jackpot At Club Dice Casino.

David S. from the United States won $50,000 in one lucky shot at the keno in Club Dice online casino. We hope his dreams come true and we wish him many other thrilling moments. New players at Club Dice casino now can claim large bonus of $500 free with a purchase of $300. You'll also find 9 progressive jackpot games at the casino.

September 19, 2005.
Jason S. From USA Wins $35,000 Keno Jackpot. Jason S. from U.S. won $35,000.00 playing Keno at USA online casino. Jason is married and is a father of four children. His occupation is estimator. The following questions were asked by USA casino managers to the lucky keno winner: When did you start gambling at online casinos? I have been playing online for 7 years. Do you gamble on a regular basis? Yes, I try to play at...

May 17, 2006.
Prestige Casino Player Donald Reddy Wins $12.5K On Keno.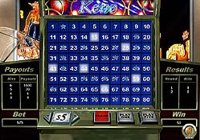 Donald Reddy, account number PRR52**02, won $12,574.00 playing Keno at Prestige Casino on May 14th. He is a Silver member of the casino's VIP players club. Prestige online casino offers 2 different keno games with $10,000 jackpot for a $1 stake (bets: $0.25-$5). The payouts are exactly the same on both of them. The only difference is that the 'Keno Xperiment' game includes the option of carrying out random picks of 2-10 numbers for you. While the highest return is the pick-8 at 92.75%.

Other Progressive Poker and VP jackpot winner stories: