Online Progressive Jackpot Winner Stories and Interviews
Treasure Nile Jackpot Winners Stories Page 5.
October 16, 2001.
Hot Tub, Four Wheeler and Mortgage. Elaine B. Wins $40,743.13 Playing Treasure Nile At Wild Jack Casino. Lucky Elaine B., Convenience Store Manager, won $40,743.13 progressive jackpot playing Treasure Nile Video Slot at Wild Jack online casino on October 16th. "I started jumping up and down and then I started to cry!!" said the winner. Treasure Nile is a Microgaming 5 reel 9 payline progressive slot game with 35 different winning combinations and progressive jackpot starting at...

September 27, 2002.
Vacation, Debts, Savings and More Play Said Tony W. Winning $40,653.3 Treasure Nile Jackpot At Vegas Palms. Tony W., Professional Photographer, won $40,653.32 progressive jackpot playing Treasure Nile Video Slot at Vegas Palms online casino on September 27th, 2002. "My first reaction when I won the Treasure Nile jackpot was disbelief. I have been gaming online for sometime and never thought I would ever win such a large amount. Of course I was thrilled and excited!!" said the...

January 17, 2002.
Treasure Nile Winner Sees Visions of Mummies and Wins a Total of $176,784.89. So Far. Rebecca Wins $40,590 On Slots. Rebecca R., Consultant, Rancher and Mom of 6, won $40,590.85 progressive jackpot playing Treasure Nile Video Slot at The River Belle online casino on January 17, 2002. She also won $136,194.04 jackpot on Cash Splash on November 10, 2001. "The night before, I had visions of mummies everywhere. That morning, I got up thinking about the mummies...I had this great urgency to play...

July 4, 2016.
R.L. won CAD$40,538 on Treasure Nile at Zodiac Casino in July 2016.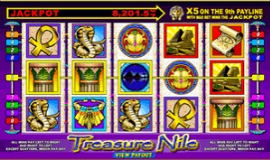 Hi there,

Did I really just win the Treasure Nile progressive? Over $40,000? I am totally freaking out right now.

Im hoping this isnt a dream. Thank you! !!!! Dont think Ill be able to sleep now ??



May 2, 2002.
Vacation and Debts. Janice P. Wins $40,241.65 Playing Treasure Nile At Vegas Slot. Online gambler Janice P., Clerk, won $40,241.65 progressive jackpot playing Treasure Nile Video Slot at Vegas Slot online casino on May 2nd. " At first I didn't realize I was the winner and when I did I just screamed!" said the winner. Treasure Nile is a Microgaming 5 reel 9 payline progressive slot game with 35 different winning combinations and progressive jackpot starting...

December 31, 2004.
Treasure Nile Winner Sets Out To Have Fun! Mark S. Wins $40,225.90 Playing Treasure Nile At Vegas Villa. Internet casino player Mark S. won $40,225.90 progressive jackpot playing Treasure Nile Video Slot at Vegas Villa online casino on December 31, 2004. "I will spend my winnings like I spent the other 2 jackpots I won!!! Having fun!!!!." said the winner. Treasure Nile is a Microgaming 5 reel 9 payline progressive slot game with 35 different winning combinations and progressive...

February 15, 2005.
Hitting Jackpot Makes Rainy Day Fun! Susan S. Wins $40,160.86 Playing Treasure Nile At The River Belle. Susan S. won $40,160.86 progressive jackpot playing Treasure Nile Video Slot at The River Belle online casino on February 15, 2005. Treasure Nile is a Microgaming 5 reel 9 payline progressive slot game with 35 different winning combinations and progressive jackpot starting at $40,000. Susan S told the story about recent big win: Did anything unusual happen the day that you...

March 3, 2005.
Kerry N won $40,135 playing Treasure Nile Slot at Yukon Gold Casino. What a rush... to look up and see that you just bet $4.50 and it paid over $40,000.
Kerry said: "I have been playing at Yukon Gold Casino for about 2 years. I enjoy the variety of games available there. I was playing Treasure Nile for the first time. I hit the progressive Jackpot after only a few pulls. What a rush ...to look up and see that you just bet $4.50 and it paid over $40,000. I plan to put about half in savings and pay off a few bills with part... maybe I'll take a trip... perhaps Australia. I can't quit telling people about it. Thanks Yukon Gold!"

December 14, 2001.
Pay Debts and SAVE! Maureen M. Wins $40,061.64 Playing Treasure Nile At The River Belle. Maureen M., Semi-Retired Office Manager, won $40,061.64 progressive jackpot playing Treasure Nile Video Slot at The River Belle online casino on December 14th. "I just sat and didn't move for 10 minutes!!" said the winner. Treasure Nile is a Microgaming 5 reel 9 payline progressive slot game with 35 different winning combinations and progressive jackpot starting at $40,000....

November 14, 2001.
Jackpot Replaces Stolen Property. Karen G. Wins $40,047.87 Playing Treasure Nile At Vegas Villa. Karen G., Bingo Hall Volunteer and Computer Instructor, won $40,047.87 progressive jackpot playing Treasure Nile Video Slot at Vegas Villa online casino on November 14th. "I was floored when I won. I just sat there and kept saying 'NO WAY'!" said the winner. Treasure Nile is a Microgaming 5 reel 9 payline progressive slot game with 35 different winning combinations and...

October 8, 2002.
Las Vegas... Here She Comes! Doris T. Wins $40,038.27 Playing Treasure Nile At Vegas Slot. Player Doris T., Retired, won $40,038.27 progressive jackpot playing Treasure Nile Video Slot at Vegas Slot online casino on October 8th, 2002. "I was in shock. Then I called customer service to be sure it was correct!" said the winner. Treasure Nile is a Microgaming 5 reel 9 payline progressive slot game with 35 different winning combinations and progressive jackpot starting...

February 21, 2002.
Plane Tickets and New House. Shelby B. Wins $40,033.68 Playing Treasure Nile At The Gaming Club. Shelby B., Registered Nurse and online gambler, won $40,033.68 progressive jackpot playing Treasure Nile Video Slot at The Gaming Club online casino on February 21, 2002. "I called my husband at work and told him that he would never believe what had just happened. I was so excited that I kept repeating 'I just won 40,000 dollars!'" said the winner. Treasure Nile is a...

December 15, 2003.
The Best Christmas Ever! Debbie R. Wins $34,444.69 Playing Treasure Nile At Piggs Peak. Debbie R. won $34,444.69 progressive jackpot playing Treasure Nile Video Slot at Piggs Peak online casino on December 15, 2003. "Because of my Treasure Nile win, my family and I had the best Christmas ever! No purse strings were tied!" said the winner. Treasure Nile is a Microgaming 5 reel 9 payline progressive slot game with 35 different winning combinations and progressive...

May 31, 2004.
Just One of Those Days... Lisa B. Wins $23,308.95 Playing Treasure Nile At Piggs Peak Casino. Lucky Lisa B. won $23,308.95 progressive jackpot playing Treasure Nile Video Slot at Piggs Peak online casino on May 31, 2004. "It was one of those terrible days, when nothing was going according to plan!" said the winner. Treasure Nile is a Microgaming 5 reel 9 payline progressive slot game with 35 different winning combinations and progressive jackpot starting at $40,000....

December 13, 2004.
First Spin On Treasure Nile Slot Hits Jackpot For Jaco P. Who Won $18,196.03. Jaco P. won $18,196.03 on Treasure Nile progressive slot on December 13, 2004 at Piggs Peak Casino. Treasure Nile is 5 reel 9 payline progressive slot game with 35! winning combinations and a minimum jackpot of $40,000 (bet max $4.5 per spin). Most of the Microgaming online casinos offer Treasure Nile slot game and contribute to the common progressive jackpot. The latest...

February 20, 2017.
Swedish Spinners Became Vera&John Winners! Göran Wins His Second Jackpot on Mobile. Believe you or not - happiness shared is happiness multiplied! Here's a little story all about how some V&J spinners' lives got twist turned upside down thanks to a few lucky spins at Vera&John online casino... Tony from Sweden was the lucky winner of a trip to the Bahamas thanks to Team V&J. We got in touch with Tony to hear a little bit more about his experience, and he...

November 30, 2004.
TreasureNile Winner Helps Reunite Family! Carolann D. Wins $15,922.76 Playing Treasure Nile At Piggs Peak Casino. Casino player Carolann D. won $15,922.76 progressive jackpot playing Treasure Nile Video Slot at Piggs Peak online casino on November 30, 2004. Treasure Nile is a Microgaming 5 reel 9 payline progressive slot game with 35 different winning combinations and progressive jackpot starting at $40,000. The recent winner Carolann D answered the following questions of a Jackpot...

January 20, 2004.
Treasure Nile Win Helps Elsie Build a Pool! Elsie M. Wins $14,370.88 Playing Treasure Nile At Piggs Peak. Lucky Elsie M. won $14,370.88 progressive jackpot playing Treasure Nile Video Slot at Piggs Peak online casino on January 20, 2004. "Where I live it's so hot you need a swimming pool to survive, and now I can build one!" said the winner. Treasure Nile is a Microgaming 5 reel 9 payline progressive slot game with 35 different winning combinations and progressive jackpot starting...

August 2, 2005.
Winning the World! Andre K. Wins $12,962.25 Playing Treasure Nile At Volcanic Gold Casino. Online slots player Andre K. won $12,962.25 progressive jackpot playing Treasure Nile Video Slot at Volcanic Gold online casino on August 2, 2005. " said the winner. Treasure Nile is a Microgaming 5 reel 9 payline progressive slot game with 35 different winning combinations and progressive jackpot starting at $40,000. Andre K told the story about recent big win: Did anything...

April 8, 2016.
F.J. won €3,400 on Treasure Nile at Zodiac Casino in April 2016. I feel so good. This is totally unexpected. At the beginning I thought its not possible! I really like the graphics on the games at Zodiac Casino and on the game, it looks good and its easy to work with. I cant remember the symbols that appeared across the reels, but when it happened I immediately checked my account. I was so happy and surprised when I saw the money in my...

< Previous 20 Winners

Treasure Nile Winners | Page 2 | 3 | 4 | 5

Other Progressive Slots jackpot winner stories: