September 12, 2008.
Hitting The Jackpot At Party Casino Before Bed Keeps Fred Up All Night... Twice.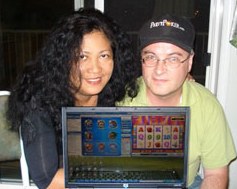 52-year-old Party Casino regular Fred didn't sleep for two days after discovering that he had won $550,416 from a 90 cents spin, by scooping the Party Mega Jackpot on the Super Fortune Wheel online slot machine at PartyCasino. 5 reel, 9 payline slot machine offers unique Wheel Bonus Feature and 4 progressive jackpots with the top jackpot's minimum of half a million dollars.
Fred and his girlfriend of 10 years Maylene, 36, were getting ready for bed last month when their lives were changed forever. Fred takes up his remarkable winner story.
"It was almost midnight and Maylene and I decided to log on just before bed to see how we would get on. We varied the stakes a bit and all of a sudden the screen started flashing with happy faces, golden dollars and jokers! We didn't know what to think - the next thing we knew it said we'd won $550,416 from one 90 cent spin!"
Fred quickly checked his Party Account. "All I could think of was what could be in there and it started to dawn on us that we had won a life changing amount of money - we were so excited. Then I started doubting and thinking that it could not be true and they might not pay out, but I knew that PartyCasino.com was a secure and legitimate site. I knew that PartyPoker.com was huge as I had seen so many of their shows on television, I was going to get my money - I had no doubt!"
Fred and Maylene instantly opened a bottle of wine to celebrate. To add to the atmosphere three of Maylene's relatives were staying with them at the time to join the celebrations. Fred had won $10,000 at a land based casino before and seen $150,000 won in his town, but nothing compared to his big jackpot at Online casino.
"We live in a retirement town where the average age is 55. Although I may not be far off that age, we're part of the younger generation! We'd been struggling for a couple of years, but now we can make ourselves more secure. The way I see it now is that whatever I make at work from now on is for enjoyment."
Fred runs his own web hosting company and instantly paid off his mortgage, loans and credit cards with his windfall. He also gave Maylene's relatives enough money to buy a car. "We're not old and retired yet but weeks before the win I went to the bank with a view to re-mortgaging the house to raise some cash and got turned down - I was told that I didn't make enough. Now the bank manager wants to be my best friend!"
As well as playing casino, Fred is a keen online poker player and intends to use some of his money to test his skills in more tournaments at Party Poker - the popular poker room and Party Casino can be played using the same PartyGaming account. "I'm looking forward to playing more poker. I will now go for the $22 Sit & Go tournaments rather than those with a buy-in of $1."
A Party Casino's spokesman said: "We pay out over $3 million in casino jackpots every single month and congratulate Fred and Maylene on their win - it seems as though it couldn't have come at a better time in their lives."
Well done Fred, it sounds like your jackpot win will let you sleep sounder at night. Congratulations and Good Luck!

See All 8 Super Fortune Wheel Winners

All Online Progressive Jackpot Winners - Index of the winner reports.

Other Progressive Slots jackpot winner stories: