Online Progressive Jackpot Winner Stories and Interviews
January 15, 2008.
Patsy F Wins $20,201 Lotsaloot Jackpot At Royal Vegas Casino.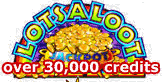 When Patsy F won a fabulous $20,201.04 on the Lots a Loot 5 Reel progressive jackpot slot, we just couldn't wait to speak to her. She won the jackpot on December 27, 2007 while playing at Royal Vegas online casino. Here's what she had to tell to Fortune Lounge managers about herself and her recent big win.
"I have been a waitress my whole life. I work in a very small family style restaurant and couldn't ask for a better 'job'. I have been married for 20 years and have a wonderful son (when I can get past the 'attitude')."
"My life is what I have made it, and I am happy to say, I made it great! This might sound 'corny', but it is the truth. I am an excellent cook (if I don't say so myself) and have always wanted to write a cookbook. I am an avid reader, and love any kind of thinking games."
"When I realized that I had won the jackpot I just stared at the screen for a few minutes, deciding who I should call first! I had been playing on and off all day, but was only had 17 spins into my gaming session when I won. I am NOT a 'lucky' person by nature, but I do believe that you can't win if you don't try."
When we asked Patsy how she would spend her winnings, this is what she had to say...
"Save a little, spend A LOT! Being a waitress has its ups and downs and January can be a pretty lean month. My Mom passed away in November, and she LOVED Disney! My sisters and I have been talking about going back, in her memory. All of us being together would be a dream."
"Thank you VERY much Fortune Lounge!"
Royal Vegas is a proud member of Fortune Lounge online casino group. The casino now offers 300 free spins for all new players. They have a chance to win big without risking their own funds. The casino offers all 20 Microgaming's progressive jackpots and over 200 other games.

See All 102 LotsaLoot Winners

All Online Progressive Jackpot Winners - Index of the winner reports.

Other Progressive Slots jackpot winner stories: